Introduction
Many ardent PC enthusiasts have experienced the transition from 3.5-inch mechanical IDE hard disk drives with 5400/7200 rpm to 2.5-inch Serial ATA solid-state drives. Many motherboards these days support M.2 NVMe (Non-Volatile Memory Express), which is a popular choice over standard SSDs. This is because NVMe drives utilize the PCIe bus interface, which offers a more efficient connection than the traditional SATA one. SSD prices have been steadily declining throughout the years, with a Samsung 870 EVO 2TB costing $120 and a Samsung 970 EVO Plus 2TB NVMe costing $95 on Amazon. The investment in M.2 NVMe over 2.5-inch SATA SSD makes sense, even though most small form-factor motherboards only support up to 1x M.2 connectors.
Background
I've been playing PC games since DOS, and I don't play on laptops or smartphones. My current rig comprises:
Gigabyte B460MDS3H
Intel i5-10400 CPU @ 2.90GHz
TEAMGROUP Elite DDR4 32GB Kit (2 x 16GB) 2666MHz
GeForce GTX 960 4GB
Mushkin Pilot-E 1TB PCIe NVMe (Primary)
Fanxiang S500Pro 2TB PCIe NVMe (Secondary)
LG UltraWide 29″ (Aspect Ratio 21:9) Display Monitor
Steam games often go on sale, and I had more than 60 games in my library, excluding games not on Steam. I had to uninstall games that I rarely play to install games that I wanted to play because of the 1 TB storage space that I had. Until recently, I had had enough of this cycle and decided to add a second disk drive to add more storage space.
Step 1 – Understand Motherboard Specification
You can search for the full product name of the motherboard on Google Search. For example, mine is 'Gigabyte B460MDS3H', and on its product page, one of the main key features mentioned is:
Ultra-Fast M.2 with PCIe Gen3 X4 & SATA Interface
This is where I installed the 1TB (Primary) NVMe when the rig was built back in 2020. To see if you can add a second or third NVMe storage, go to the Specification tab and look under the Expansion Slots. Mine says:
1 x PCI Express x16 slot, running at x16 (PCIEX16)
2 x PCI Express x1 slots (All the PCI Express slots conform to PCI Express 3.0 standard.)
It means I can install two additional NVMe, but the bandwidth is limited to PCIe Gen 3. Data transfer rates are doubled for PCIe Gen 4 devices, allowing them to transfer data at much faster speeds.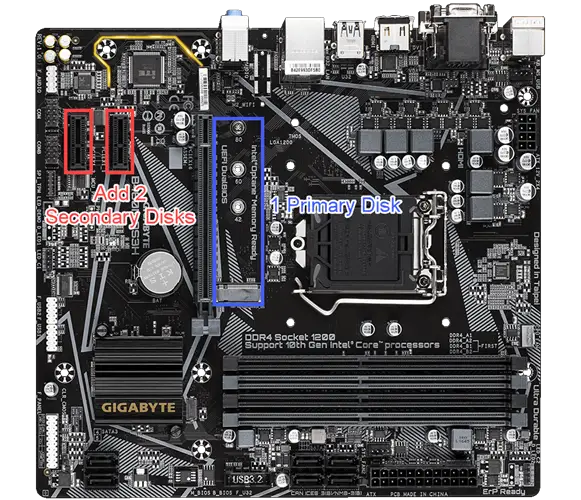 Step 2 – Research and Purchase NVMe Storage
My primary disk is the Mushkin Pilot-E – 1TB, which has an Amazon score of 4.6/5 from 253 ratings. Additionally, I recently acquired the Fanxiang (梵想) S500Pro-2TB to augment my storage capacity. You can see that the price of NVMe drives has gone down in the past few years.
M.2 NVMe Model
Capacity
PCIe
Read / Write (MB/s)
Cost (USD)
Year Installed
Purchase
Mushkin Pilot-E (primary)
1 TB
Gen3 x4
3500 / 3000
$108
2021
Amazon Singapore
Fanxiang (梵想) S500PRO (secondary)
2 TB
Gen3 x4
3500 / 3150
$66
2023
Taobao
China
The SSD price has been steadily declining over the past few years.
There exist numerous reputable brands, including Samsung, Crucial, and WD. Recently, Chinese SSD brands have begun to penetrate the Solid-State Drive (SSD) market. However, are they reliable? I don't have any experience with them, but I bought one as a secondary disk and plan to install games on it.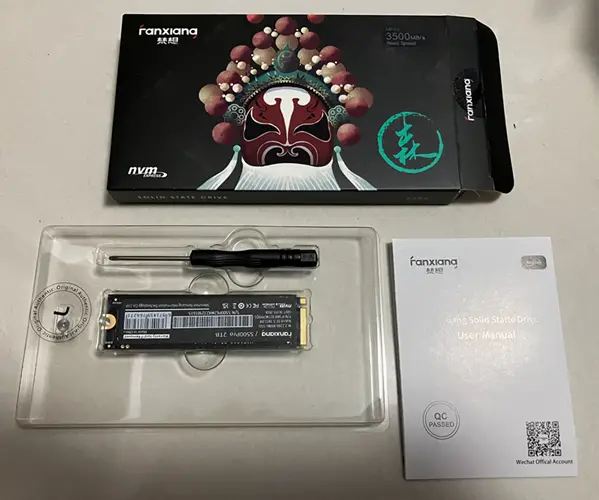 Step 3 – Mount M.2 NVMe to PCI Express Adapter
To install additional NVMe, it is probable that an M.2 PCIE adapter card will be required, comprising the PCB board and PC case PCI slot cover. Because the PCI slot cover is metal silver, which does not match my black PC case, I did not install it. Moreover, the original covers for my case have holes for airflow, which I think improves the case airflow.
It took me a while to figure out how to use the M2 gold-colored knurled threaded nut to hold the NVMe onto the PCB board. The PCB board does sway slightly when one tries to push it, but I'm confident it will hold up without the slot cover.
Step 4 – Windows 10 Storage Settings
Don't be alarmed if you can't locate the new disk drive in the Windows Explorer.
Go to Storage settings
Create a storage space
Enter Name, Drive letter and choose NTFS for Windows Operating System
Choose Simple (no resiliency) for Resiliency type drop-down
The new disk will be formatted and ready to use in Windows Explorer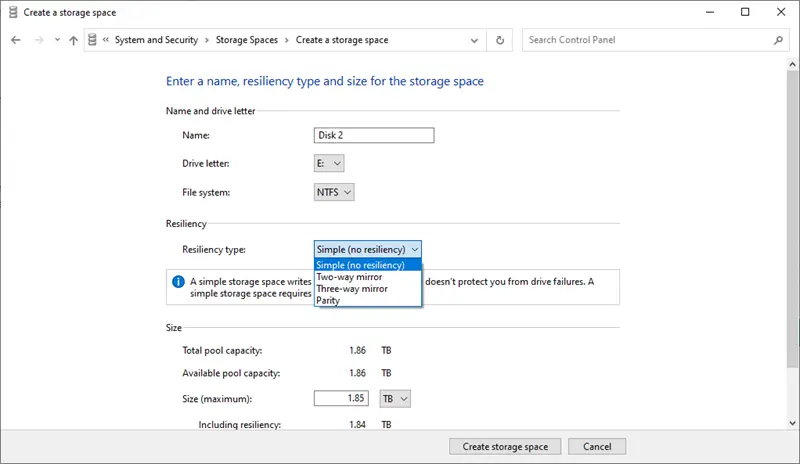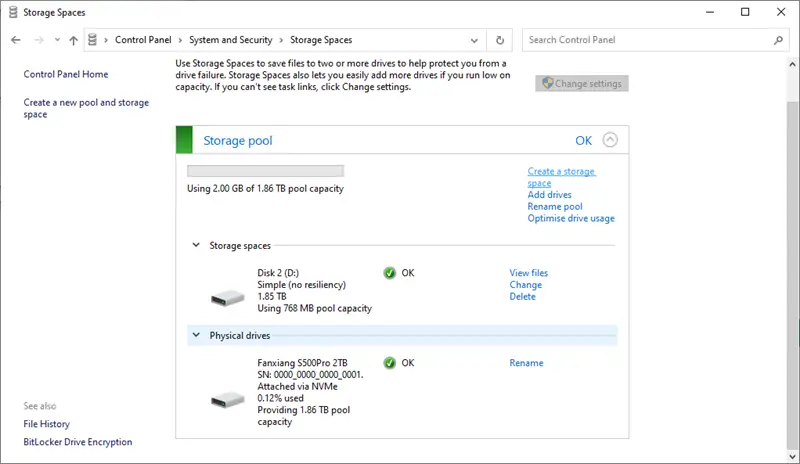 Conclusion
It is recommended that you choose a minimum of 2TB for your primary disk storage size if you are building a new rig. This is because the additional disk space would be future-proof for games, family photos, and video files. The 4TB storage capacity may not be necessary unless you have some specific requirements, as on Amazon, the Crucial P3 Plus 4TB costs $205 ($103/TB) whereas the 2TB costs $40 ($40/TB) which is a substantial price difference per TB. There are three types of SSDs: M.2 NVMe SSD, M.2 SATA SSD, and SATA SSD. If you buy new, pick M.2 PCIe Gen 4 NVMe SSD or recycle a 2.5 SATA SSD for everyday use.