I was working from home (WFH) for a month because of COVID-19. I decided to spin off a tech tutorial website powered by WordPress. This has always been on my mind but I never really did have the time. It takes half a day to buy domain name, hosting space and setup WordPress with Linux, Nginx, MySQL, PHP (LEMP) but it takes hours or days just to write a top-notch tutorial article with perfect 'English' and screenshots.
A new website requires a brand-new domain name! In actual fact, I already had the name 'devcube' in mind. It stands for Development Cube. I owned the domain devcube.xyz for one year from 2018 to 2019 but I did not renew after it expired. My preferred TLDs in order devcube.com, devcube.net and devcube.io were all unavailable. Thus, I went to Namecheap and bought devcube.xyz *again* at an offer price of $7.99 for two years.
I did brainstormed for couple of hours before deciding on a .xyz domain. One of the main reasons was that .xyz domain is currently ranked third in popularity in the Internet presence according to stats from nTLDStats. I bought a third ranked TLD among dozens of TLDs at a cheap price. Hey, what could go wrong?

I deployed my new WordPress site with Docker using Docker Compose happily. However, just one day passed and I started having doubts that devcube.xyz does not look convincing for potential visitors to my new website. Thus, I brainstormed again, very hard this time round (read many reddits and others) and finally decided to settle for a .com domain once and for all.
As devcube.com is unavailable, I had to rethink my favorite domain name such that a .com version is available. I did not want to give up 'devcube' completely thus I visited a couple of domain suggestions tools and found these 2 most intuitive.
1. NameMesh
NameMesh is colorful and lively! The generator returned so many suggestions until I had to crop the bottom half (SEO category) of the image below. Best of all, all these suggestions are categorized. For example, the NEW category displays the availability of your preferred domain with different TLDs (popular ones like .site, .online and .shop). Next, there is the MIX category for alternate domain name suggestions if you standby .com. The maximum number of characters for your domain can also be defined.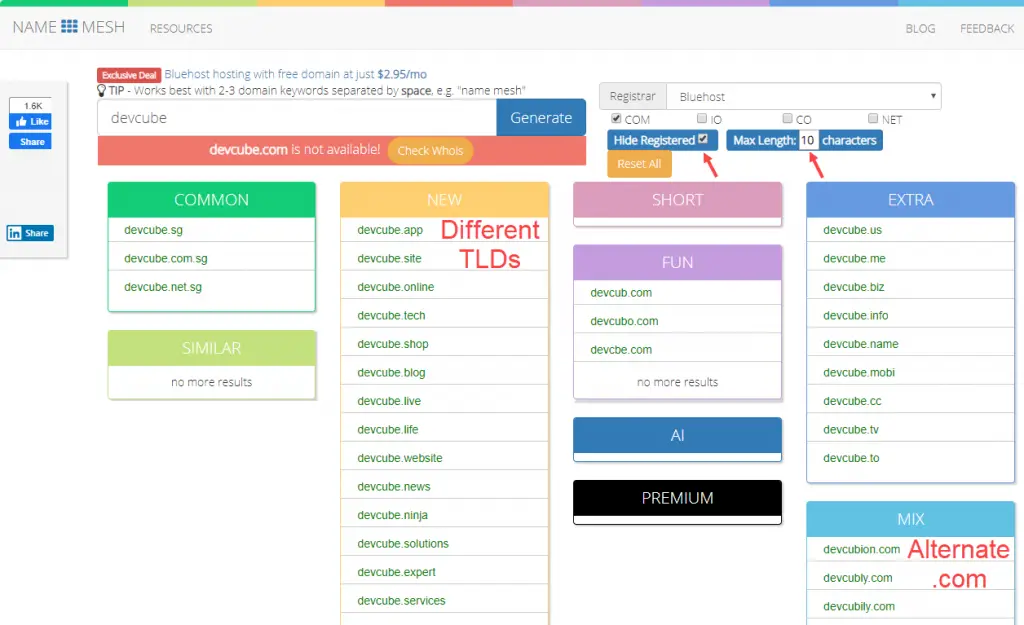 2. Namelix
Namelix is not your everyday domain suggestion tool. It is actually a business name generator which suggests very cool names with awesome designs and logos. In my opinion, the alternate business name (domain name in this case) results is of higher quality than Namemesh. For example, devcubetrend, devcuberail and logicdevcube are all pretty cool names. The colors and font designs also add another level of appeal to your eyes and keep you scrolling down for more names.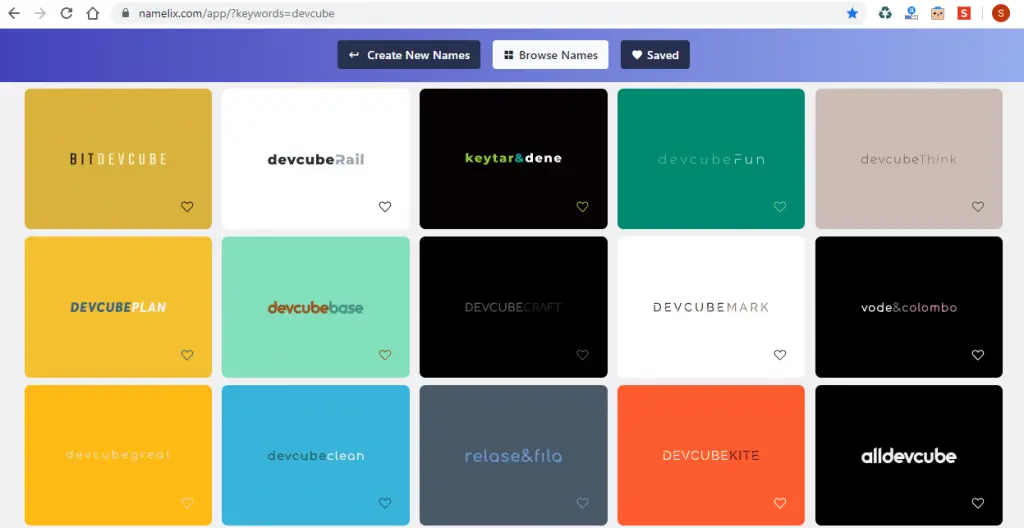 Conclusion
So, I purchased two domains (devcube.xyz and techsch.com) from Namecheap in 2 days. Domain techsch.com is currently being used for this site and devcube.xyz is not being utilized at the moment. I do not have any regrets making techsch.com purchase but I will probably axe devcube.xyz if I can't find any use for it in 2 years' time. Although many SEO articles and Google specified that TLDs does not affect SEO rankings but I do feel happier owning a .com domain now.