Introduction
Whatever you call it – thumb drive, flash drive or just plain USB, is a wonderful little gadget that had since made CD obsolete. Gone are the days when we are required to boot up Windows CD to install OS or CD R/W to copy large files over to another destination. USB ports have since advanced from a standard USB 2.0 to USB 3.2 Gen 2×2 but we are not here to do version comparisons and while I have always worked with thumb drives and SSD on my desktop for the last 10 years, it is not until recently that I took the plunge and purchased a portable PNY Elite SSD. Reason? Well, I have to analyze security video footages copied into my daily 32 GB USB drive which almost maxed out the capacity.
Background
USB 3.0 was released in 2008 and it was a huge speed improvement from USB 2.0 which first arrived in 2000 as the transfer speed increased from 480 Mbps to 4.8 Gbps (10x faster). USB 3.0 had since been further classified into Gen 1 and Gen 2 with USB 3.2 Gen 2 reaching speed up to 10 Gbps. Note that USB 3.0 is now also known as USB 3.1 Gen 1 or USB 3.2 Gen 1 with speed up to 5 Gbit/s.
Why PNY Elite Portable SSD?
It is one of the cheapest available portable SSD in Amazon, Lazada and other shopping platforms. PNY is also a brand that I am familiar with because I once used to run OEM PNY GPU on my desktop. It was on my shortlist for a couple of days because I hesitated as it is only USB 3.1 and not the latest USB 3.2 support. I finally purchased the PNY Elite SSD from Amazon when the price for 3rd party (new) fall to a new low of USD $38.99 on 18th Sep 2020. It had since gone to new lows but I think I had gotten a good deal anyway.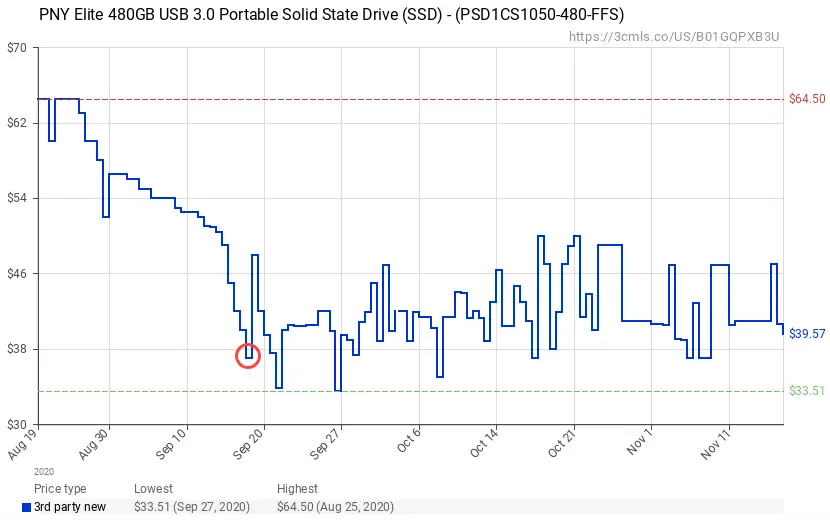 Unboxing PNY Elite SSD
The box says 480 GB and is able to transfer at a speed of 430 MB/s (Read) and 400 MB/s (Write) for USB 3.1 Gen 1 and this is 130x faster than USB 2.0 drives. Inside, we get 1 high speed USB to Micro B cable (approx. 10 cm long), the product registration code for Acronis True Image Data Protection software and of course the PNY Elite SSD itself. At the side of the box, it says 3-year warranty and is compatible with Windows, Mac and Linux.
A Closer Look at PNY Elite SSD
Here are some images when compared to a typical USB thumb drive such as the 32 GB Toshiba thumb drive. The PNY Elite is a little taller than most flash drives and with the addition of the Micro B cable, it has further extended itself to greater length. At the bottom, it says "Elite Portable SSD 480 GB" and "Made in Taiwan". Weight wise, the PNY Elite is 2 – 3 times the weight of a typical USB thumb drive but overall, is till slim and light-weight.
CrystalDiskMark Benchmarks
Out of box, the default file system is exFAT and benchmarks are done with CrystalDiskMark 8.0.0 RC4. Below are the respective read / write benchmarks for 16MiB, 512MiB, 1GiB, 2GiB and 4GiB. There are other reviews on the Internet with performance benchmarks ran by other disk benchmarking tools such as ATTO Disk Benchmark and some had reported having met the declared read speed but fall short of write speed and vice versa. However, in my 'CrystalDiskMark' tests, without changing the default test settings (Sequence, Random, Block Size, Queues and Threads), the PNY Elite SSD is able to fulfill and exceed the manufactured stated values.
Out of Box – exFAT File System
Read: 462.6 MB/s (Benchmarks averaged) vs 430 MB/s (Manufactured claims)
Write: 424.6 MB/s (Benchmarks averaged) vs 400 MB/s (Manufactured claims)
Quick Format – NTFS File System
Read: 462.4 MB/s (Benchmarks averaged) vs 430 MB/s (Manufactured claims)
Write: 423.8 MB/s (Benchmarks averaged) vs 400 MB/s (Manufactured claims)
Quick Format – Back to exFAT File System
I had read reviews that the read / write performance was at its best (peak) out of the box and somehow dropped after being reformat as other file system. However, this is not true!
PNY Elite SSD vs 32 GB Toshiba USB 3.0
PNY Elite SSD is 5x faster in read and at least 53x faster in write performance for both test scenarios (16MiB and 1GiB). As seen in the benchmarks below, it was a total knockout in the write department!
Read: 462.46 MB/s (PNY Elite SSD) vs 79.49 MB/s (32 GB Toshiba USB 3.0) ~5x faster
Write: 424.07 MB/s (PNY Elite SSD) vs 7.97 MB/s (32 GB Toshiba USB 3.0) ~53x faster
Read: 462.2 MB/s (PNY Elite SSD) vs 92.07 MB/s (32 GB Toshiba USB 3.0) ~5x faster
Write: 425.93 MB/s (PNY Elite SSD) vs 7.34 MB/s (32 GB Toshiba USB 3.0) ~58x faster
Conclusion
I had known that the PNY Elite is not the best portable SSD in the market and my friend advised me against buying a USB 3.1 Gen 1 type. But I was not ready to shell out more than USD $50 especially when a USB 3.1 flash drive 128 GB cost about USD $20. These tests results do not include how PNY Elite SSD fare against its competitors but it has proven that it was 5x faster in read and 53x faster in write than a USB 3.0 flash drive. However, a USB flash drive still wins in portability because one still requires a cable to use the portable SSD. Others uses for 480 GB SSD space include storing 4K ultra HD content, photos and music files as written on the box but I am already using a 2-bay network attached storage (NAS) for my home whereby my smart TV can stream video content from it. So, I guess I will start to utilize my PNY Elite SSD only when I find a need to read and write large files frequently.
Ratings
---