Introduction
There are many kinds of people counting solutions in the market now. COVID-19 has accelerated the deployment of these systems like never before. There are a few ways on how these counters do the people counting and these include overhead, horizontal and video-based. Top-down will not be possible if you have a very high or no ceiling. Side-way will count a couple holding hands as '1' instead of '2'. While many vendors claim that the radar method is the most accurate, it might not work well in dim areas and most likely it requires a power source to work. How about an interim solution while you plan and discuss with your management or while your vendor conducts proof of concept (POC) at your site?
Background
Social distancing is a common terminology that is now practiced by many countries due to the COVID-19 pandemic. Just last year, many countries went into lockdown to prevent further transmission of the virus. As countries ease the restrictions to allow businesses to re-open, governments define a set of safety management measures (SMMs) that each retail establishment must follow or risk being fine or even face a temporary shutdown. One of these rules is to lower the occupancy limit for malls and large standalone stores. This has pushed business owners to look for IoT companies to look into deploying automated people counting systems for their space which can be an office building, shopping mall or even an attraction.
Replacing Hand Held Tally Counters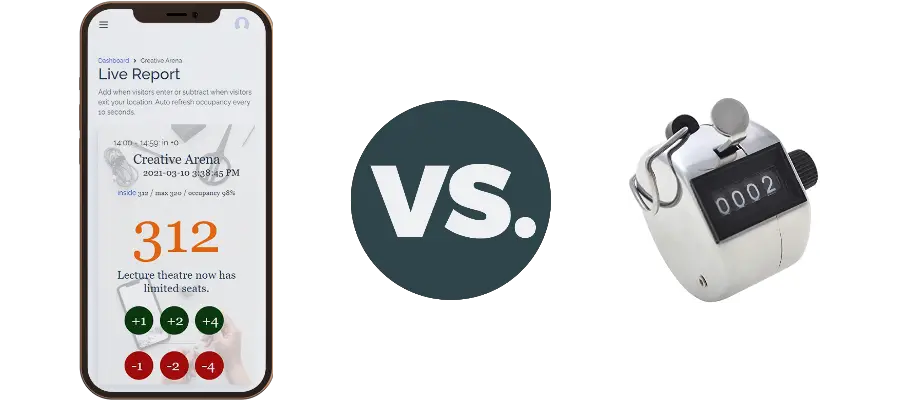 The online people count clicker works like a traditional tally counter except that it can count traffic in both in/out directions and obviously it requires an internet connection to work. A click can have a value of more than '1' which comes in handy when you have a large group (e.g. > 20 people) walking in.
Dealing with Multiple Entrances and Exits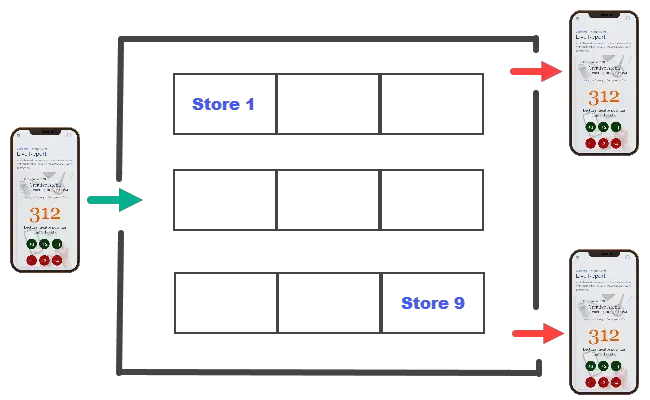 Some venues have a single entrance (e.g. ticketed attraction or temperature screening point) but multiple exits for visitors to leave the premises. In the example above, a total of 3 staff is required to be stationed at these key points to calculate live occupancy. Staff A will count the number of people who walk in and click +X to add to the occupancy total while Staff B and Staff C will count the number of people who walk out and click -X to subtract from the occupancy total. Imagine if you are using the standard tally counters, Staff A will have to comms Staff B and C first for the exit numbers before using the formula Staff A – (B + C) to calculate occupancy.
Key Point is Both an Entrance and Exit
I have been to a shopping mall whereby the mall management closed all existing exits and divide the main entrance into two lanes (entrance and exit). Staff used two tally counters, one to count people visiting the mall and the other visitors exiting it. I figured that they monitor the current occupancy by using the "In" number minus the "Out" number. They could otherwise use count clicker, in this case, to help them record the traffic.
Features – Simple Dashboard, Multiple Locations, Personalized Clickers and Live Reports
CountClicker is not a tool that one would expect to pack countless features but it does what it does best – count people manually. The user would log in to the dashboard and launch the count clicker associated with the location to start counting people. You can customize the clicker a little for visual appearance but there's about it. It was supposed to be simple, easy to use for everyone and they mean it.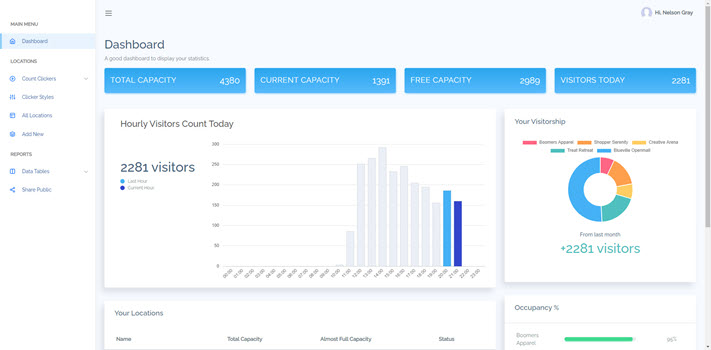 Simple Dashboard – We understand that staff manning the entrances are mostly security guards or part-timers. We want to keep things simple for this group of people, be it seniors or non-tech savvy group, hence we kept the menu to the minimum on this wonderful Bootstrap 5 admin dashboard template. Today, CountClicker gives a clean and simple-to-navigate dashboard without unnecessary settings or overwhelming details on the screen.
Multiple Locations – A free account allows one to add up to 3 locations to track occupancy which will be useful if you own multiple sites e.g., shopping malls, retail stores, or even lecture theaters. Each location will have its own capacity limit and custom message depending on the configured occupancy threshold.
Personalized Clickers – Manning the entrances or exits might be an easy task but it could get boring quickly. With temperature screening and counting people becoming entry requirements as part of safe management measures, things could get quite challenging. CountClicker lets one customize individual clickers by applying beautiful backgrounds, popular font styles, sound effects and layout to buttons, etc. By means, it is not a must-have feature but is definitely a welcomed addition.
Live Reports – This is coming from the management perspective. While the staff who does the people counting can read the live occupancy number on the screen, the management team (e.g., team lead or duty officer) does not have to log in to the dashboard to view these numbers. There is a public report URL link (can be disabled) to share out which does away with login and can display multiple locations occupancy reports on a single web page.
Pricing / Subscription Plans
There are two plans available (Free and Standard plan) as shown on their pricing web page. However, one can only subscribe to the Standard plan through their contact form and it cost $0 per month at the time of this writing. I believe that the free tool is in its initial launch phase, therefore, the CountClicker team might want to wait and see before finalizing the pricing plans. They did mention on their website that they are not using AWS, Google Cloud or Azure hosting hence they are able to provide free access to the online clicker tool but still provides 99.9% uptime. Note that it is FREE as long as you log in to your dashboard at least once every 90 days.
Identify Areas of Improvement
The count clicker requires an Internet connection to work and it does not store checked in/out number (e.g., in cache) to upload the occupancy number when the device reconnects. It also mean that it relies on a relatively stable Internet connection to work properly.
There are no team management options in the dashboard. For example, if I have a team of staff to do people counting, all of them will share the same login account and password. There is no account-level access control yet hence everyone can edit location details or even delete locations from the dashboard.
The feature email notifications was mentioned in the Standard plan but it is still unavailable at the time of this writing. While the people count numbers will be stored for at least 30 days for users to download as CSV text files but it will certainly be handy if the report can be set to auto deliver to the user-configured email account on a daily or weekly basis.
Last but not least, one could only hope that the CountClicker team brings in more background, font styles and clicker layout to the table as there seem to be limited selections for now. After all, the count clickers are their main focus (and selling point) and operational staff does have to log in, see and click on them every day.
Conclusion
Digital transformation is using automation to save manpower but count clicker does not take your staff away from the entrance. It can, however, serves as an interim solution for small businesses or as a backup tool to your automated people counting system. While the usefulness of the reports of collected people count is debatable, one can use the numbers to calculate variance against automated people counting system. Other use cases vary, e.g., a venue or entrance/exit might be a temporary setup hence it is not worthwhile to invest in a counting system. Finally, kudos to the CountClicker team to provide a free people counting tool in a time of the COVID-19 pandemic where many businesses have to comply with occupancy limits due to safe management measures.