Introduction
Home mesh Wi-Fi system has been around for a few years. Mesh system does not come cheap; they range from $100 for 1-unit to $300 for a 3-unit pack. AiMesh is a router feature that is present in ASUS routers only, and needless to say, if one is using it, then they should buy an AiMesh system that consists of small devices (by the way, they look like the left/right speakers for a PC). I don't have friends using them because they usually buy an extender or repeater. That being said, these days, the high-end range routers have more antennas and can provide wider WiFi coverage.
Background
I renewed my home fibre plan last year and top-up for a new ASUS RT-AX55 router to replace my ageing RT-N66U. RT-AX55 has four external antennas and supports WiFi 6 (AX1800). Theoretically, the more expensive AX3000 and other higher specifications provide higher speed for the 5GHz band, but this depends on your devices, ISP plan, etc. I had the RT-AX55 to replace my dual router AP setup. Unfortunately, the stand-alone RT-AX55 is not strong enough to cover my entire house as there is still a dead zone in my living room. Last week, my brother called me up for a solution for his house's dead zone. I sold him the dual router AP solution, but he gave up trying to make it work. Hence, I introduced the AiMesh system to him, and after discussion, we decided to get a 2-pack mesh system to solve both our houses' dead zones.
Unboxing ASUS ZenWiFi AX Mini (XD4)
Dead Spot in Living Room
There is one Wi-Fi dead zone at the far end of the living room when using the stand-alone RT-AX55 router. I could have placed the router in the living room beside my ONT modem, but I don't want to deploy a switch in Room 2, where all my desktops require physical LAN connections. Moving the router to the Living room will create a dead zone in Room 3. So, either way, I can't do with the RT-AX55 alone.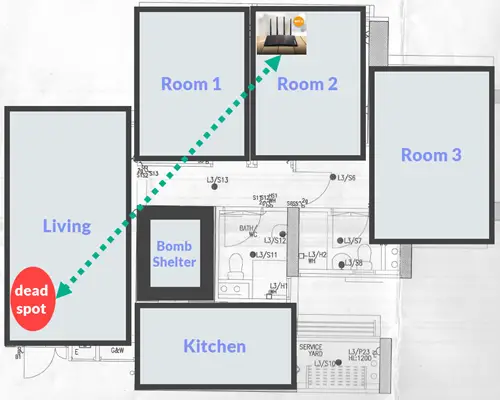 Possible Setups with ASUS Router and XD4
Whole-home Wi-Fi 6 Mesh – ASUS ZenWiFi AX Mini (XD4)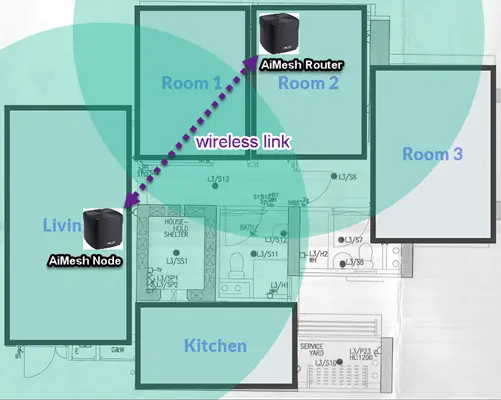 The whole home Mesh WiFi system is a perfect solution for a new home or someone without a router. From router to nodes and between nodes does not require a physical connection. Any one of the AiMesh devices can be designated as the 'router' while the remaining devices will be 'node'. The router (blue port) will be wired to your ONT modem. Before deployment, we need to place the 'node' devices within 3 meters of the 'router' to add them to the AiMesh system. After that, we can move the nodes into individual rooms.
Wireless AiMesh Setup – RT-AX55 (Router) and XD4 (Node)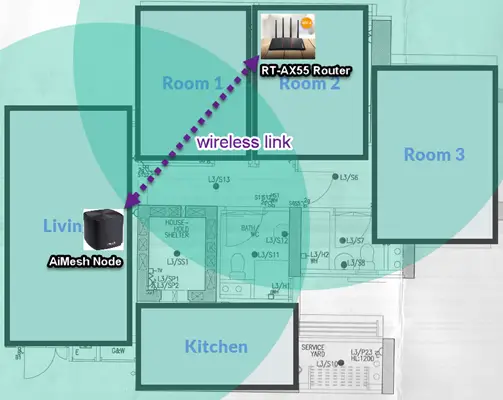 This scenario is for any ASUS routers that support AiMesh (Primary AiMesh router). For example, you have an existing router but are unsatisfied with the WiFi coverage; hence you plan to buy AiMesh devices (as nodes) to increase the coverage. There is some cost-saving because you buy one less node and the router can be set up as an AiMesh router or node, but you will want to place it near multiple end devices where wired LAN is desired because while an Wi-Fi Mesh device only has 0-1 LAN port, a typical router will have four ports.
Wired AiMesh Setup – RT-AX55 (Router) and XD4 (Node)
This setup is similar to the previous setup, except it is now wired from router to node. I can deploy this because, during my home renovation, I had a network contractor install Ethernet ports in my living room and all my rooms. This method allows me to enable the Ethernet Backhaul Mode, which provides more wireless bandwidth for end devices. Furthermore, I am no longer constrained by the fact that the AiMesh nodes must be placed between the AiMesh router and the existing dead zone for optimal results.
2.4 GHz and 5 GHz band Speedtest at Living & Master
No.
Deployment Scenario
2.4GHz
Living Room
5GHz
Living Room
2.4GHz
Master Bedroom
5GHz
Master Bedroom
1.
Stand-alone RT-AX55 router
(DL) 25.7
(UL) 4.76

(DL) 55.8
(UL) 14.1
(DL) 79.4
(UL) 11.0
(DL) 94.3
(UL) 40.2
2.
AiMesh whole-home mesh WiFi
Wireless connection between
AiMesh router (1st XD4) and
AiMesh Node (2nd XD4)
(DL) 126
(UL) 48.8
(DL) 284
(UL) 324
(DL) 81.9
(UL) 17.6
(DL) 107
(UL) 25.8
3.
Wireless connection between
AiMesh router (RT-AX55) and
single AiMesh Node (XD4)
(DL) 118
(UL) 83.6
(DL) 80.7
(UL) 52.2
(DL) 43.9
(UL) 12.7
(DL) 79.7
(UL) 14.2
4.
Wired connection between
AiMesh router (RT-AX55) and
AiMesh Node (XD4)
(Ethernet Backhaul Mode)
(DL) 96.5
(UL) 53.3
(DL) 263
(UL) 193
(DL) 28.7
(UL) 7.35
(DL) 129
(UL) 52.7
Measured by Speedtest by Ookla app on Samsung Galaxy S9 (non Wi-Fi 6 device) on 500Mbps plan.
From (1), there is mediocre speed in the living room, but all the AiMesh setups in (2), (3) and (4) resolve this problem. However, there isn't any drastic change in speed for Room 3 for all the AiMesh setups because devices in Room 3 still connect to the original RT-AX55 router in Room 2 for setup (1). Therefore, adding XD4 in Living only aids devices within its vicinity.
Evaluation
I no longer get disconnected in my living room, and I get full WiFi strength in both far ends of the Living room. The 263 Mbps download and 193 Mbps upload speed for 5GHz in (4) is an impressive improvement in the Living due to the nearby AiMesh node (XD4), which is approx. 2 meters away. The results were a combination of wired AiMesh setup (from ASUS router to XD4 node) with Ethernet backhaul enabled. Otherwise, Room 3 remains unchanged as the original ASUS router still supplies it.
Does Wi-Fi 6 make a difference?

Yes, WiFi 6 compatible devices do make a difference in download and upload speed as long as the router and nodes support 802.11ax, officially marketed by the Wi-Fi Alliance as Wi-Fi 6/6E. If the speed is nowhere near the theoretical peak, then perhaps you should check Channel bandwidth in the router's Wireless settings.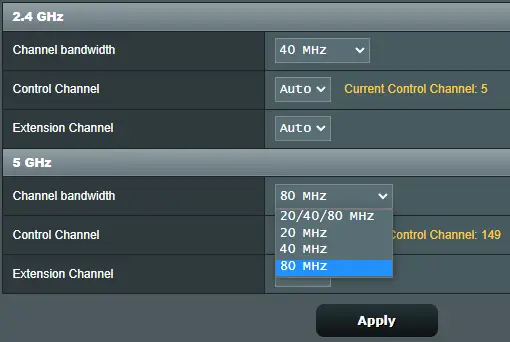 Conclusion
Any improvement in WiFi coverage? Yes, definitely! Do you think it is worth the money? It may not be wallet-friendly, but the compact size is aesthetically pleasing for my Living room. Overall experience? Great, but not excellent because the default Smart Connect does not work promptly. For example, when I move to the Living, I might still connect to the ASUS router in Room 2. The ASUS ZenWiFi XD4 was released in 2020, and newer models are already in the market, such as XD5 (supports AX3000) and XD6 (supports AX5400). However, they cost much more, and in theory, most of us will subscribe to a maximum of 1 Gbps fibre broadband in our home, so you will never download files faster than that.