Introduction
Do you believe in feng shui? Feng shui also known as Chinese geomancy is a practice which uses energy (chi) to harmonize individuals with their surroundings. Before my wife and I moved into our new home, we asked a relative for some feng shui advice. Figuring out where my wealth position is and where to put the kitchen stove and furniture was one of the things we had to do. Since we had already spent a great deal of money on our house, I was not overly concerned about feng shui. Thus, I went with my guts feeling to design the interior.
Background
This year marks the 9th year that we have been living in this flat, and we had replaced the sofa, dining table, and even the bed frame. However, the location of big furniture like the TV console and sofa has not changed. A colleague of mine recently told me how his feng shui remedies had helped him feel better for the past week when he found a new sleeping position outside his master bedroom. I was on the fence until he mentioned that misfortune would strike on the 7th, 15th and 21st year. The fact that I had a major health condition on the 6th year alarmed me enough to think about improving my house feng shui.
Changes to Invite Chi (positive energy)
Feelings, flow, and energy are known as chi and refer to the feelings we intuit from the world around us. Chi, which means 'air', is a fundamental concept of feng shui. It is the sense that a room feels right or wrong. Chi is found in different forms, such as movement, light, and air, sharp edges, and ambiance.
Apply Bagua Map to Living Room
I looked up Feng Shui on the Internet and found one YouTube video that discussed the Bagua map for the living room by Juile Khuu in a simple-to-understand way.
Draw a single square or rectangle around your living room.
Divide the square or rectangle into 9 smaller squares or rectangles.
Use a compass to stand in the middle of your living room.
All the elements in the Bagua map will fall into place when you locate your North.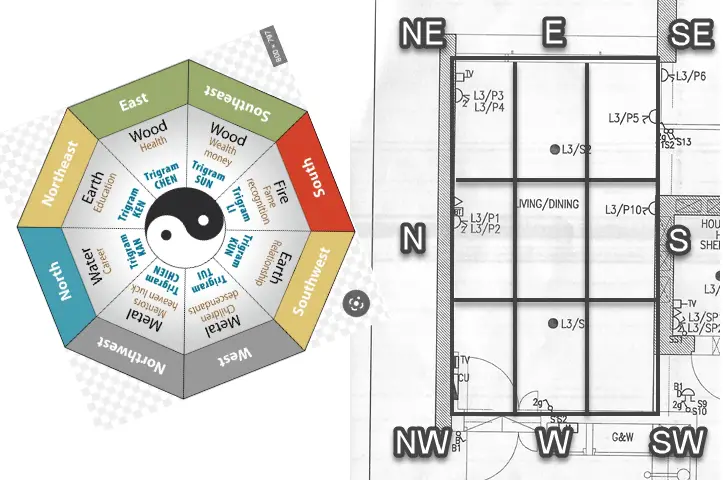 Before: Feng Shui Uninspired
Here are some of the decorating mistakes I made in feng shui.
Aquarium in Fire corner.
Sofa blocking the entrance of main door (obstruct flow of Chi) and does not have clear view of the doorway.
The dining table against the wall saves space, but my little boy always sat in the 'chairman' position for meals, and he was bossy and showed little respect to us.
Many toy boxes stacked on both sides of the TV console made the living room feel cluttered.
Plants that are not spouting for months remains.
90 degree angled (sharp/cut) walls are not blocked or neutralize.
Feng Shui says it is best not to let the TV be the focal point of the living room.
Round coffee table is not helpful in feng shui.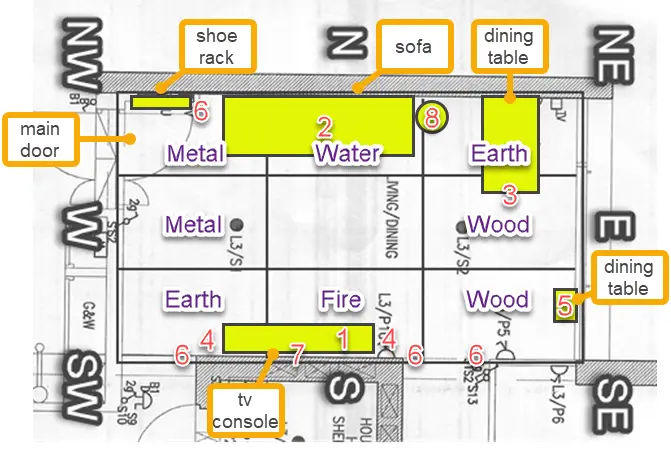 After: Feng Shui Inspired
The following are some of the changes that have been made to improve Feng Shui:
Aquarium in Water corner.
The sofa is away from the main door, but it's easy to see. A non-feng shui plus point is that you don't have to sit next to the shoe rack.
The solid wall backing of the dining table and the 2-by-2 seating arrangement have greatly improved our table conversation.
The children separated toys that are no longer being played into a 'to-donate' storage box, and I kept them out of sight in our storeroom, thus feeling less clustered
Replaced plants that are not spouting to enhance the Wood corner.
Added a 'metallic' display cabinet from IKEA in the Metal corner and placed it to 'blur' the 90-degree wall.
The TV now sits on the TV console and is less of a focal point because it blends in with the aquarium and metal cabinet.
The round stool acts as a coffee table for sofa seaters and counteracts the negative effect of protruding corners.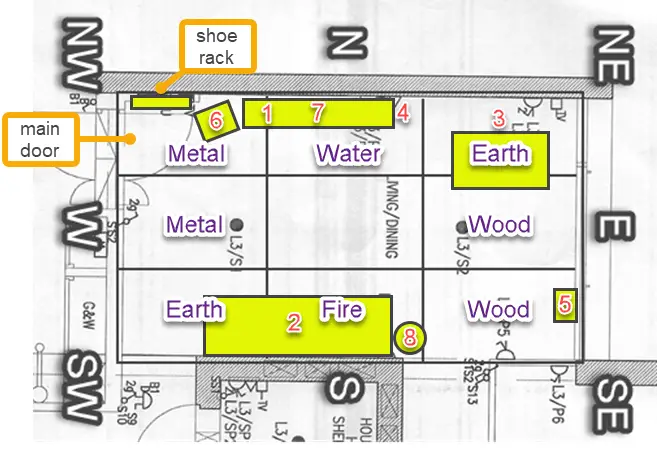 Covering All Five Elements
Water – Aquarium with lucky number 6 fishes.
Earth – A solid wood TV feature wall and dining table.
Metal – IKEA metal cabinet
Wood – There is an existing pot of Mint plant, and we plan to add more plants to make a small greenery space.
Fire – Wi-Fi routers, AiMesh, and digital phones are powered by electricity. We are looking at other ways to enhance the fire element.
Bonus: Customized IKEA BAGGEBO Metal Cabinet
You can buy a metal cabinet from the IKEA BAGGEBO series for $52. This is a simple looking cabinet with a tempered glass door that keeps dust away. If both sides are glass, then the cabinet will be pricier. I like how the sides have small peek-through holes, but are also made of metal. I ran my fingers through the metal surface, and it was smooth. It has 3 levels, and I think it is just right for my living room because I don't want a big cabinet that stands out in the living room.
More Levels for Display and Lights Up
A display cabinet usually comes with lightning preinstalled, but this budget cabinet does not. Fortunately, IKEA sells an LED lighting strip for a cheap price of $10. There are 3 smaller strips that can be connected to one another to form a single long strip, and it also comes with an on/off switch. Three units of VARIERA kitchen shelves have been added to increase the space available for display.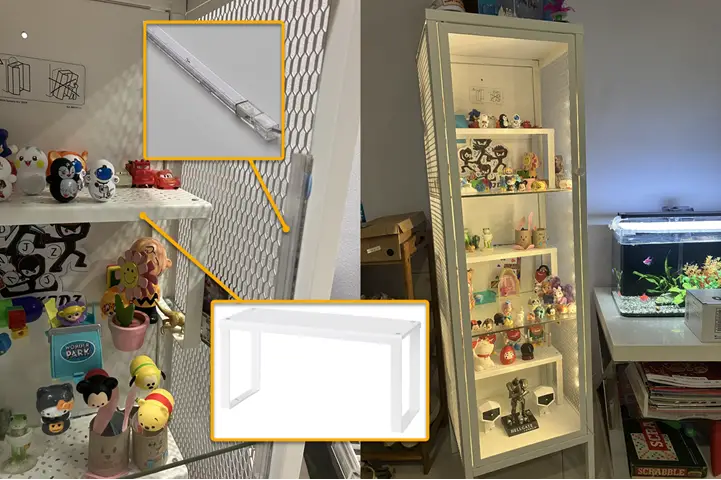 Conclusion
I don't really feel the positive vibes, but I do see how the living room is more harmonious. After having the same setup for the past 9 years, it was refreshing to swap the TV console and sofa. When we opened our main door to our relatives for the Christmas party in 2022, they exclaimed that our living room looked larger! I appreciate how our family has become more social during meals with the new dining table arrangement. My eldest daughter, who is always the last to finish her meals, is no longer distracted by the TV. Every day, my younger son will use the cabinet, putting in and taking out his toys.
As everyone in the family got involved indirectly to assist me in my Feng Shui rearrangement, spring-cleaning for Chinese New Year 2023 started early this year (December 2022). We'll continue this journey one step at a time to avoid sudden changes in our lives and to enjoy the little positive changes that affect the entire house, not just the living room.