Background
When Wii was launched in United States in November 2006, I was with two colleagues in Las Vegas to support our local brand Creative at the Consumer Electronic Show (CES). We had like two days of rest at San Francisco after the exhibition ended and we shopped around for Wii. We came to this shop which had two boxes left and both my colleague and I agreed to buy the them before one customer came to ask the shopkeeper if there is any Wii left. Oh boy, how lucky we were as it was selling fast in U.S.!
I enjoyed my Wii for the next 1-2 years having bought like 6-8 games, some of which are used CDs but i stopped playing and kept everything away after that. When Wii popularity dropped, Homebrew development came along and I took up my Wii once more to modify it. Wii gaming yet lasted me for a couple of months before I put it away and went full time on PC gaming.
Fast forward, I had moved to my own house and have two naughty kids now. In the beginning, I had Wii connected to my new 46-inch TV but did not play it often as my kids are still young. Furthermore, my last list of games is limited (12) and I am lazy to download new games. However, due to the recent COVID-19 outbreak, my family (kids included) had to stay home for two months. This is when I thought to upgrade my modified Wii apps (e.g. Homebrew and dx2 cIOS etc.) and download new games which are suitable for the kids.
Prerequisites
Homebrew channel installed on your Wii
SD card (FAT or FAT32, preferably below 512 MB since only use ~30 MB)
USB flash drive (Wii Backup Manager format as WBFS file system, 32 GB will store approximately 12 games)
PC or laptop to download installation files and games
Download at least one Wii game in .wbfs format for testing
Step 1 – Download d2x cIOS Installer
Visit d2x cIOS website to download the cIOS file. There are four types of distributions but we are only concern with d2x and d2x-alt here. The d2x-alt supports 2 USB ports but you can just grab a 64 GB USB flash drive and store like 24 games in it. Hence, I feel that 1 USB port support is sufficient. Moreover, it was mentioned online that there are issues with the latest d2x-v10-beta53-alt.zip. Moving one version down is d2x-v10-beta52.zip and this was the file that I used for my recent Wii upgrade. Download and unzip the contents into apps folder in SD card. Select Yes if prompted to overwrite.
Step 2 – Use NUS Downloader to Download IOS56 and IOS57
It was mentioned that Wii is able to auto download the required IOS files (.wad) if connected online when you run d2x cIOS installer in Step 5. My Wii is on WiFi but the download did not happen for me. Therefore, I had to download the NUS Downloader v1.9 app here. Unzip and run NUS Downloader.exe. Select Database > IOS > IOS56 > v5661. Then check Pack WAD option and click Start NUS Download! Repeat for IOS57 > v5918. Note that we are not using the Latest version because d2x cIOS installation specified these two versions of IOS files v5661 and v5918.
Navigate to your NUSDownloader_v19 (default) folder > titles > 0000000100000038 and 0000000100000039 > 5661 and 5918 to copy both IOS56-64-v5661.wad and IOS57-64-v5918.wad to the root of SD card (outside apps directory)
Step 3 – Download USB Loader GX
USB Loader GX will load all your Wii games (.wbfs) from USB flash drive onto your TV hence this is another app which you need to unzip into apps folder of the SD card. You can download the latest file at USBLoaderGX at sourceforge.net. However, the latest release USBLoaderGX r1272.7z did not work for me because it failed to load my Wii games when I launch the app. I reverted back to my old v3.0 r1180 and all my games reappeared. Found someone mentioned in forum that v3.0 r1180 was the last version for Wii. My guess is new revisions (3.0+) might be for WiiU instead.
Step 4 – Transfer (.wbfs) Games with Wii Backup Manager to USB
You can download Wii Backup Manager at wiibackupmanager.co.uk. Note that you need to click Skip twice at the advertisement page (adfoc.us) to redirect to the download page.
Unzip and run WiiBackupManager_Win64.exe. Go to Tools > Format drives to format the inserted USB flash drive as WBFS file system. Note that this file system is not recognizable by Windows and you can only add and remove games using Wii Backup Manger. After format completed, go Drive 1 and select your USB in the drop-down list.
In order to prepare a game for transfer to the USB, go Files > Add to add the game folder first. Final step is to select the games and click Transfer and select Drive 1 to copy the games to USB flash drive. Transferred games should be in .wbfs format.
Step 5 – Run d2x cIOS Installer
Insert both SD card and USB flash drive into Wii and remember to check for correct USB port in Prerequisites. Launch Homebrew and select d2x IOS installer.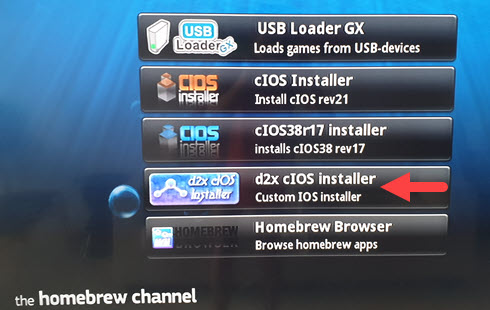 Using your Wii controller, up/down to select cIOS, base, slot and revision and left/right to select each available option. If you do everything correctly in Step 1, you should be able to select <d2x-v10-beta52>. Settings for slot 249 and slot 250 are
Slot 249: base <56>, slot <249>, revision <65536>
Slot 250: base <57>, slot <250>, revision <65536>

Using Wii controller, press 'A' to load the Slots Map below. Then navigate to Slot 249 and press 'A' to install the IOS (.wad) files from Step 2. Repeat for Slot 250.
Step 6 – Fire Up USB Loader GX and Start Gaming!
Reboot your Wii into Homebrew channel and select USB Loader GX. If you encounter 'Waiting for HDD' error, this means that the loader cannot detect your USB at all. Ensure that the USB flash drive is in the correct USB port (Prerequisites) or else reinsert USB and power cycle your Wii.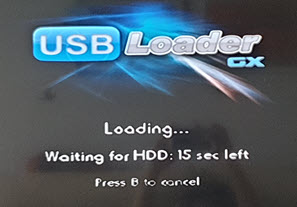 If everything works, you should see your games loaded in details list mode (left image). You can switch to large icons (right image) by clicking one of the buttons in the top bar.
Conclusion
It took me a day to figure out how to install Homebrew, d2x cIOS and copy games with Wii Backup Manager on my 1st attempt years ago. The recent upgrade took me half a day. First, I mixed up by copying d2x cIOS to USB instead of SD card. Second, both the latest version of USB Loader GX and IOS files (from NUS Downloader) did not work for me. The latest HackMii v1.2 and Homebrew Channel 1.1.2 are available but i don't bother to upgrade them anymore. I am satisfied with the small d2x cIOS upgrade and most importantly, my kids are enjoying the newly reloaded games (e.g. Just Dance) during the stay home notice due to COVID-19 pandemic.