Background
We had initially planned to visit Genting Highlands with my parents and my brothers' family. Due to the late decision, all hotels were booked due to the school holiday, so we changed the vacation destination to Penang for my family. My wife and I booked the Kimberly Boutique Hotel on Agoda and planned our trip. We didn't buy tickets in advance from Klook because we weren't certain if all the places we wanted to visit would happen. I applied for the YouTrip Mastercard, and it proved to be a lifesaver when we ran out of funds towards the conclusion of our trip. A lack of travel experience, we only had a brief 20 minutes to spare after passing through the airport security gates to the departures hall and rushing to the boarding gate, only to discover that the plane was behind schedule. What if we missed our flight? It was unpleasant, but it was a good lesson learned.
Day 1 – Arrival
Kimerbly Night Market
We arrived at Kimberly Boutique Hotel late evening and took a 5-minute walk to the Kimberly night market for dinner. There exist approximately 10-20 food stalls, some of which are selling via wheel cart and others in coffee shops. We located a table and decided to dine in. We ordered char kway teow (in its white version), satay, spring rolls, and fried oysters. The fried kway teow was a hit with my wife and daughter, and they proceeded to order a second serving. In general, the char kway teow was satisfactory, while the remainder of the menu, including hot beverages, was acceptable.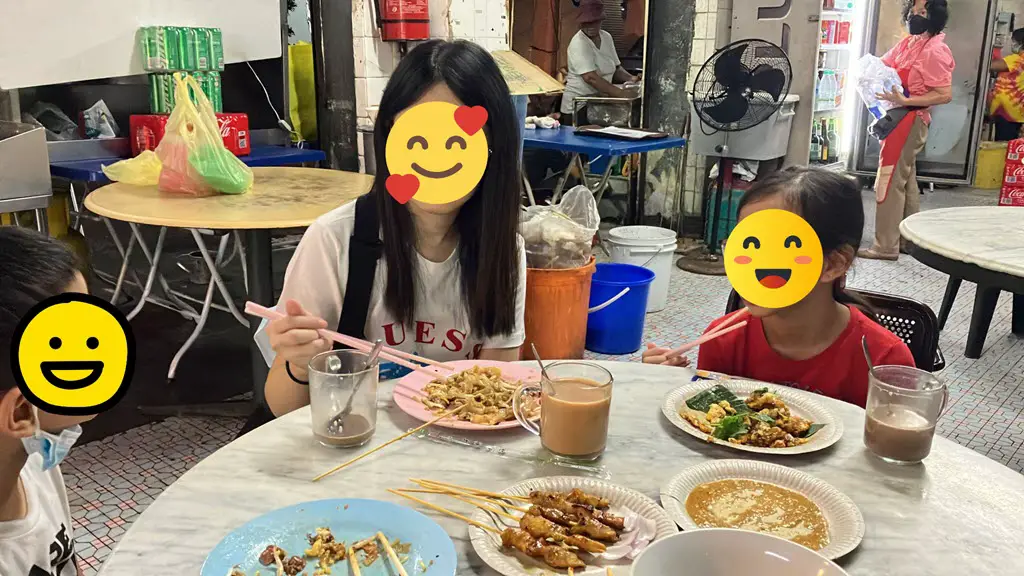 Day 2
Penang Wonderfood Museum
At Wonder food museum, one gets to experience local food and other Asian cuisine in a huge way. Some food was real cooked food, but it was covered with a layer of chemicals that made the outer layer hard. The shops museums are, as usual, divided into rooms and have two floors. The food and its origins are explained on the wall, but there are no interactions you can have with these delicious foods. You can take pictures like you're eating them, but it gets boring quickly (at least for me). They have people who take photos and ask you to pose, so you can buy them at the end of the tour.
Cheong Fatt Tze – The Blue Mansion
We were denied entry to Cheong Fatt Tze – The Blue Mansion at the main entrance gate. This is because the scheduled session slot was full, and the subsequent slot is scheduled for an hour later. It was confusing to communicate with the staff, and there was an uncle from a group of taxis who offered to ferry us to other places to visit before coming back. We declined and proceeded down, astonished to discover an alternative entrance to the Blue Mansion. The ticket booth vendor sold us walk-in tickets, which may have caused some confusion among other tourists, as the guided tour was full, but walk-in (via self-guided mobile app audio) was still available on this side. There isn't much to explore, just things like furniture, rooms, and decorations that the Cheong Fatt Tze family left behind, for example bridal chairs, a century-old bed, etc. The courtyard is actually a 4-star hotel, but only hotel guests can enter. In the end, I thought we should have chosen the Penang Peranakan Mansion instead.
Armenian Street
The grab driver told us there isn't much food at Armenian Street and recommended we head to the Chew Jetty hawker center for lunch. There are several pastry and cake shops, drink stalls, and ice cream parlors, as well as souvenir shops that sell similar trinkets, such as keychains, hand-made crafts, and simple toys. We explored shops on both sides of the street, and the famous 'Kids On Bicycle' street art and 'Floating colorful umbrellas' street art. Although Armenian street is a popular destination for tourists, the prices for food and keepsakes are still quite reasonable. My children gleefully selected a few keychains for their cousins and nephews.
Chew Jetty
We proceeded from Armenian Street to the nearby Chew Jetty and discovered a modest temple situated near its entrance, where we offered our prayers and made our offerings. The small village is built on planks above the sea and is actually a residences area. The people who live there construct small stores in front of their houses because you can see their living room behind it. There are only a few places to eat there, including a shop that makes homemade desserts and ice-cream, and a cafe. We purchased a few laser-engraved Pokémon keychains, and my spouse purchased several bottles of nutmeg medication oils. Finally, we took pictures at the end of the jetty with fishing boats and the open sea in the background.
Movie at Gurney Paragon
We replenished our energy at our hotel before hailing grab to Gurney Plaza. We intended to dine there before heading out to Gurney Paragon for a movie because the children wanted to watch the Disney movie 'Elemental'. The plaza has many boutique shops, and I stopped by Skechers intending to pick up a pair of running shoes. To my surprise, they are priced over 400 ringgits, which is equivalent to the price back in Singapore. We had dinner at Ding Tai Feng, a well-known Chinese eatery known for its xiao long bao dishes. The final bill was less expensive than in Singapore, but my wife and I both felt the food was not up to par. The movie was affordable, and I was pleasantly surprised that they offered both adult and child pricing. A family of 2+2 only cost 60 ringgits, and the popcorn/drink combo was only 10 ringgits, which left me practically in disbelief.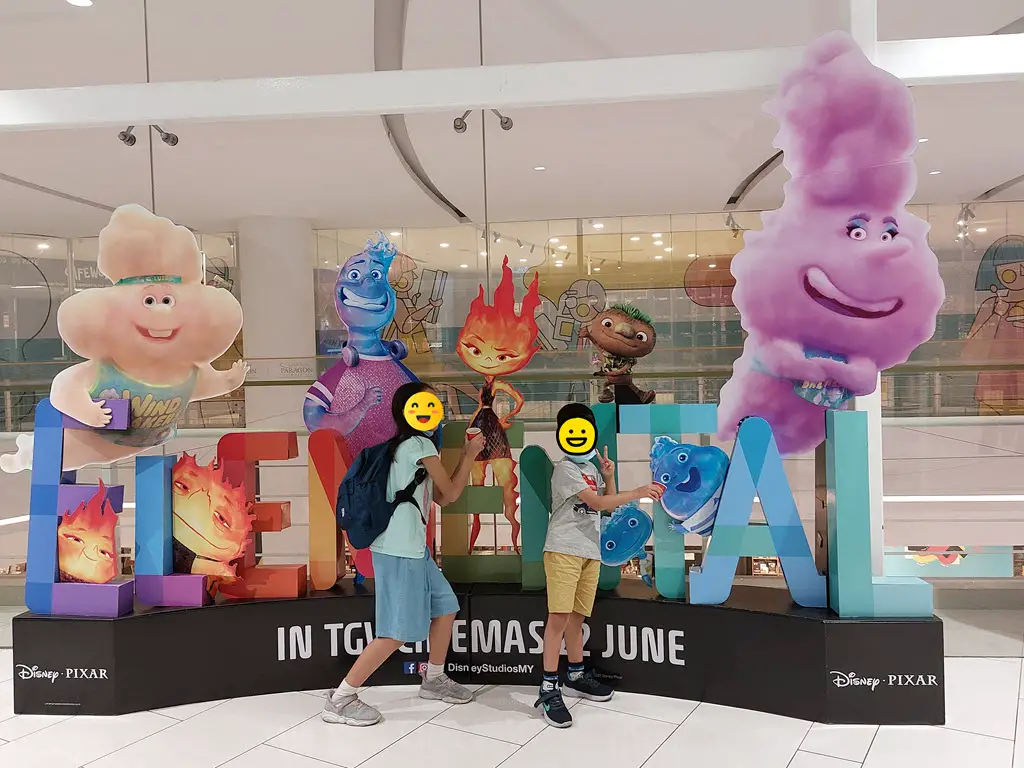 Day 3
Entopia Butterfly Farm
We hired a private driver to take us to the west side of Penang to visit farms. Although the Entopia butterfly tickets are expensive, I feel this is a must-see for the kids. The place where butterflies live was not big, but it wasn't too small either. There are many species of frogs, spiders, bugs, tree insects, and reptiles to see, as well as butterflies. I found the reptiles and insects in the display containment to be more enjoyable than the butterflies. After the wild sanctuary section, there are interactive discovery areas where children can study the life cycle of butterflies and insects. A western restaurant and souvenir outlet are located near the exit. The overall experience was above-average, but I'm not planning on returning anytime soon.
Tropical Fruit Farm
The ticket types include paying for the entrance only or topping up for a fruit platter and a fruit beverage. I'd suggest just purchasing the entry ticket and paying separately for the fruit drink, as the sliced fruits weren't really enticing. The ticket includes a very brief 5 minute sit in the truck up the hill, where we alighted to walk around the fruit tree farm for 30 minutes. The guide didn't explain much and sometimes gave us fruit to try, so it wasn't worth a visit in my opinion. Our guide suggested we try the nutmeg-pineapple juice when we returned from the farm, and we enjoyed our refreshment with a good view of the scenery.
Jelutong Night Market
The Grab app didn't find any locations with the keyword "night market" so we ended up at Jelutong "wet" market instead. We ended up walking 500 meters on foot at the side of the road, motorcycles whizzing by. So, please use the street address next time. The night market was quite impressive, with numerous food stalls on both sides of the road and a section selling clothes and other random stuff (common pasar malam) but nothing really grabbed our attention. We packet all our food back to the hotel because there is little dine in place. We had shark fin soup, clam noodle soup, zhu chang fen and french fries. Lastly. Remember to specify, for example, white town coffee to grab back, or else the driver will have difficulty locating you at this packed night market.
Day 4
Upside Down Museum
Upside Down Museum is similar in size to Wonder Food Museum, but it is operated by a group of young, energetic teenagers. Since they do not have in-house photographers, they will ask for your mobile phones and take photos for your family in each themed room. The staff will ask everyone to do a certain static pose in every room, and then some repetitive motions as videos in latter rooms. Most rooms are fascinating, but you only get to see the upside-down visual aspect from the photos. We shelled out 30 ringgits and sent three photos to their WhatsApp business account from our phones to make fridge magnets as a keepsake. We visited each room in the morning and had sufficient time to take photos, but we recommend avoiding going in the evening, as we saw large tourist crowds on Day 2.
Penang Hill
It was drizzling when we reached the foot of Penang hill. Our private driver advised us not to queue for the tram because it will be packed after maintenance. Instead, we paid 160 ringgits for a 15-minute trip up and down Penang hill using a 4×4 vehicle. Once we got to the top, there were guides who tried to sell us golf club rides and tickets to the dinosaur/Disney frozen-themed museum. As we were rushing for time and had enough museum visits, we did not go for it, nor will they pushy. My kids and I took on some challenges and climbed the stairs to check out a mosque and Indian temple, while my wife rested. There is little to see or do at the top of the hill, and the scenic town view was meh.
Kek Lok Si Temple
We visited a few sections of the Kek Lok Si temple, offered our prayers and donations, while the children hung lucky charms on a wishing tree. We walked past shops that sell religious things, and then we found a booth to buy tickets for the tram inside one of the main souvenir shops. Unfortunately, we didn't see it at first, and had to go back to buy two-way tram tickets, after which we had to wait 20 minutes to board. The tram with one cabin can carry about 30 people vertically up to the famous statue of the Guan Yin Goddess. Visitors were unable to approach the barricaded statue due to scaffolding, which shows that some minor finishing construction is still going on. After we paid for incense sticks, prayed towards Guan Yin, and took photos of some zodiac animals, we headed down by tram to end the temple visit.
Kimerbly Night Market *again*
It was scheduled for a food truck party @ Batu Lanchang for dinner. But our driver informed us that the food vendors were the same as before at the Jelutong Night Market because they relocate their business on certain days of the week. To avoid another chaotic night out and the need to pack our luggage for the early flight tomorrow, we packed our dinner from the nearby Kimberly night market, but with different foods. We ate kway chap with pig's ear, skin, and intestines as well.
Bonus – Traditional Chinese Deity Parade
Interestingly, our private driver has informed us that a Chinese Deity Parade, which has been organized by various temples, will be passing through Georgetown, and one of the major roads is located within a mere distance of our hotel. This parade is held occasionally and is part of the Penang culture. The sight of many dozens of colorful lit-up street floats, devotees 'possessed' by deity and crowds of followers who gave out 'blessing' candies to onlookers was an eye-opener. It was a new experience for each of us, including the kids, and I see it as a finale performance to conclude our vacation.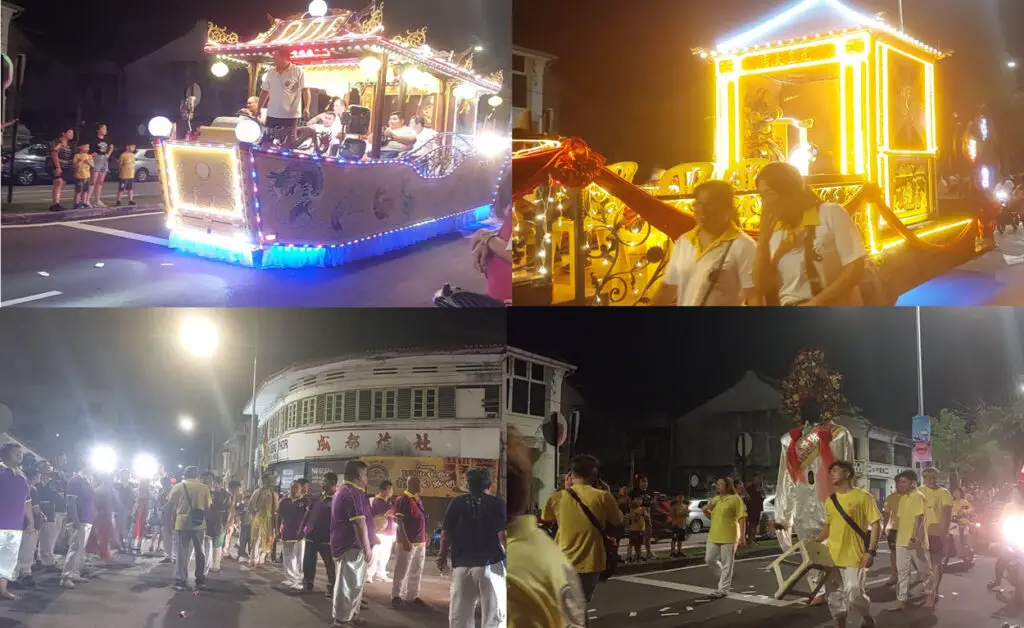 Day 5 – Departure
Penang International Airport
As advised by our private driver, the ideal time to head to the airport is 3 hours before departure. This is due to the possibility of a traffic jam on one of the highways leading to the airport in the event of an accident in the initial stages. Furthermore, it was a Sunday morning, and she mentioned that people were returning to the city center from their hometowns to begin their workweek, and the airport's processing time was not lightning-quick. She was spot on. On arrival, we had trouble figuring out where to check in our luggage, and we also had a small incident where the immigration staff stamped my daughter's flight ticket to Penang instead of the departure one. The lesson I learned was to always keep the onboarding ticket with your passport and nothing else.
Conclusion
Even though we got 3 full days of activities in between, 5 days and 4 nights is still a little short. We could have enjoyed spending more time in a more relaxed way in some places. Both upside down museum and the Chinese god parade left a lasting impression. Grab is convenient for traveling around the Georgetown area and the people are friendly. We enjoyed traditional food such as asam laksa, oyster omelette and crispy hor fen. The cheap movie, souvenirs, and Pokémon cards were a hit with the kids, while the 1:3 conversion rate made us all happy. We might take the kids to the Escape water theme park when they are older. We're pretty happy with how this trip went, and we're eagerly awaiting another family adventure before the year ends.